August 2017:
Jen & Rudolph Raath from Cape Town (- see pic) spent the last 7 and a half months living the travelling dream. Calling themselves 'the married wanderers' they back-packed through Asia with all of the highs and lows that visitors to that region will know so well. They didn't plan to come back yet, but now it's happened. So, in a lesson that might be useful for others, here's some of what they said: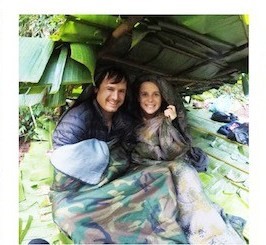 Too much of a good thing maybe?
"Why aren't we sad that the trip is ending? Why are we not depressed that there is no new interesting country coming up after India? We love to travel SO MUCH. So why are we excited about coming home?
"We decided to write this post because someone asked us at a bar last night if we're excited to go home and we both said yes, probably a bit too eagerly. That night we started feeling awkward about it. We're supposed to be this wanderlust couple that doesn't need anything else besides beautiful destinations, backpacks and each other. Aren't true wanderers and travellers meant to be able to keep going forever (if the money allows)? We are literally living the dream right now – are we being ungrateful or even disrespectful to this incredible journey, by not feeling completely devastated that it's ending?
"....Traveling can be absolutely exhilarating every single day. Everyday you wake up and you are either so excited because your dream to swim with turtles or sleep in the Laos jungle or see the Taj Mahal is about to come true, OR, so anxious because you're dreading that 17 hour bus ride with a driver whose more than likely 15 and tipsy. Almost every day you are challenging yourself, adjusting to a new area, culture, climate, cuisine.. Mentally you are always on your A game....
The experience is emotionally draining
"We have moved to a completely new destination every 3 to 5 days. We haven't worked or settled down in any way. We have simply had the pure bliss and privilege of travelling and exploring 24/7. The best way we can describe this type of life, is a "rollercoaster of extreme highs with the occasional lows". Excuse the weird graph visual but we're not always good with words: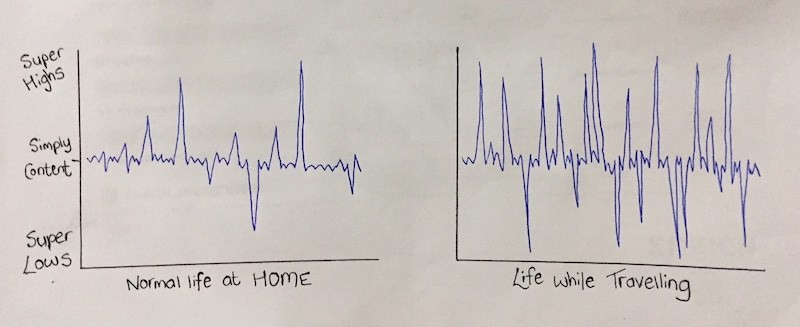 "…Anyway, our bodies are telling us it's time to pause for a while. We are beyond excited for the most random things. Hot showers, an actual cupboard for our clothes, cuppachinos with people who really know us. We knew something was very strange when we lay in a hammock at 1pm on a Tuesday and reminisced about peanut butter toast dinners …"
Make of that what you will, dear warriors! Ed.