Day One
The salesman in the Tokyo camera shop called himself Ted. That wasn't his Japanese name, of course, but he wore it on a name badge to make foreign customers like us feel more at ease. Thankfully too, he spoke a good range of english.
Pic © Nigensha Publishing, Japan
We met him last night in Akihabara, which is known as the "electronic district" of this vast city of more than 30 million people and is, without doubt, one of the greatest retail concentrations of computerised gadgetry, image recollection and digitalised gismo-nology anywhere in the world.
All we needed was to buy some camera equipment capable of faithfully recording this trans-continental journey of ours back to London.
But to be able to give his best advice, Ted wanted to know our story.
"Drawing world attention to road safety," he said, repeating one of our main ambitions. "Well, here in Japan, you should find that drivers behave themselves with care and caution. It's part of our national psyche.
Proud to be British: jokey bowlers and a final wave as we set off from Tokyo
"But as for your route ... the Asian Highway, you say?" I pulled out my bag with the map and its accompanying booklet from the United Nations.
"M'mm, I don't believe I've ever seen a sign for it. Are you sure there is one?"
On Day One, our departure day from Tokyo, we found that Ted was right on both counts. With traffic so thick in the world's biggest city, there was simply no other way than to drive slowly with caution. And, even with Phil's fluency in Japanese, following the signs to reach our designated highway going south tested his navigational abilities to the full. The UN's map confirmed we were on Asian Highway 1 (AH1), but otherwise: who would know?
Tonight as we reach Osaka, another big city, there is more confusion as we roam round busy streets following signs in an unfamiliar language. But we reach our hotel safely in the end.



---
Day Fourteen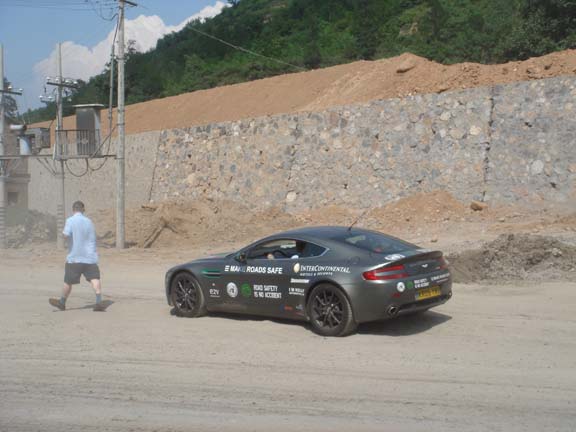 Foot Patrol: Richard showing the way to go
First real test of the car's durability. An enforced detour - something we are told, rather mysteriously, to do with not being allowed near a "sensitive" military installation - takes us off-route to rural Ping Liang.
The gruelling journey is only about 165 miles but it takes eight hours in grid-lock in heat of 60degrees. After our progress so far on express and highways this rough road has multiple problems. Pounded by trucks shuttling in and out of sand and gravel extraction plants, the surface is frequently broken with repair work,
Dusty deviation near Ping Liang
mounds and potholes. The car has a ground clearance of approx 6ins and several times Richard has to walk in advance like the flagmen of motoring 100 years ago, guiding Phil on a path through ruts that are twice that deep. But the car survives it all - without a murmur of dissent.
---
Day Twenty One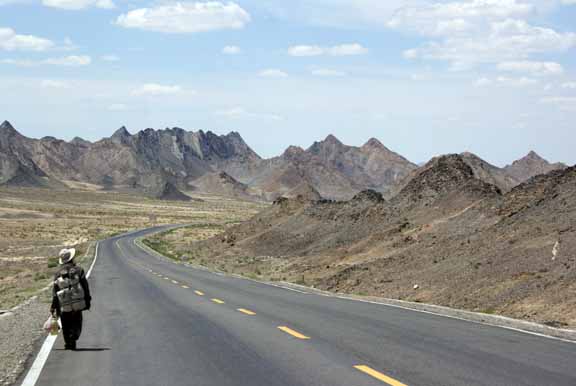 Down into the lunar landscape
Turpan is one those places you read about in geography books and then promptly forget - unless you happen to go there. We reach it today on our continuing journey across north-west China and it is, by any standards, a phenomenon of nature. Suddenly, after driving for days through empty plains of sandy nowhereness, we drop right into it, descending mile after mile into a huge basin of a place enclosed by rocky escarpments on all sides and with a floor which has lowered itself, quite inconceivably, well below sea level.
A truck snakes down into the Basin
Because of this geological freakery, the temperature rises to a brutish 50degC by day and plunges to minus 20degC at night - a span of extremes that is unsurpassed virtually anywhere else in the world.
To put it bluntly, it is not a place for the feint-hearted. But then again, nature has a way of being kind as well as cruel. Despite its dangers, the Turpan Basin was on the route of explorers, traders and pilgrims who passed this way for centuries and lived to tell the tale.
And so it was with us, on a day in which nature thankfully decided to throw some thin cloud across the sun and to send a cooling wind from the distant Tianshan mountains that kept the temperature mercifully down to around 40degC.
A group of local Urgur people told us the combination was a rare event - just as it was for an Aston Martin V8 Vantage to make the Turpan crossing. If indeed, it has ever happened at all. Until today.



---
Day Thirty Four
Humps in the road: a modern camel train
An arduous eight-hour drive along the corridor between the sand dunes of the Garagum desert and the spectacular Kopet Dag mountains took us to the port of Turkmenbashi, where we expected to take a ferry across the Caspian Sea to Azerbaijan.
The journey was punctuated only by the antics of wandering camels in the habit of sitting on the warm asphalt towards the end of each day, causing a driving hazard in the failing light that Aston Martin drivers would not usually be conditioned to encounter on the roads of England (or most other places for that matter).



---
Day Forty Nine
Ship ahoy! The ferry back to Blighty
And so, at last, we arrive in London - our final destination.
To begin the day there was another silky run up to Calais across French roads that we both agreed were among the best of the whole journey, but first there is the strangest piece of serendipity.
It happened on the autoroute an hour or two going north out of Paris when we spotted a dark blue Maserati being driven by a man who bore the most uncanny resembalence to multi-times F1 world champion Michael Schumacher.
As readers can imagine this was not the kind of encounter that drivers of an Aston Martin, even those who have been travelling for 48 days, could easily resist checking out most thoroughly.
Reporting on parade: Buckingham Palace, London
And it was he (or so we can surely be certain?), as the face so familiar to racing fans the world over broke into a grin as we pulled alongside and he spotted our Make Roads Safe slogan down the side of the car - a message not lost on our hero, who is himself a commitee member of the campaign and one of its leading supporters.
Courteously (for surely that must have been the reason?) the former world champion then allowed us to pass at a speed which discretion forbids me to mention.