Contact Us
Email
Telephone
+44 (0)1908 618439
Write
Mercury Books
Newport Pagnell
MK16 0DD
England

Other books by this author include:
Which Way Next?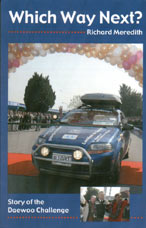 Hair-raising account of a middle-aged adventurer and a young student who drove a small family hatchback from the UK to South Korea raising money for children in need.
The "Daewoo Challenge" took them through 25 countries (including war-torn Afghanistan and other danger spots) in an epic journey of determination, courage and excitement during the late summer of 2003.


---
One Way Or Another
One Way or Another is a collection of topical accounts and anecdotal short stories from Richard Meredith in his Balding Backpacker travelogue series.
With his reporter's notebook, wicked sense of humour and a healthy disrespect for authority, the intrepid middle-ager goes walkabout in this crazy world of ours and falls into a whole heap of adventures ( and misadventures).
During a year-long globetrotting tour he is witness to George W. Bush's non-election as American President, is tear-gassed in anti-globalisation riots in Canada, bag-napped in Argentina, sung to at the Sydney Olympics and survives an outback safari with four single women.